Pornstar Info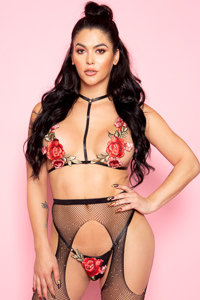 Videos with Domino Presley
Date added:
2020-12-01
Rating:
Description :
Glamorous TS Domino Presley's dramatic makeup accentuates her pretty face the way her elegant lingerie accentuates her fantastic body. The darkhaired beauty teases director Joey Silvera's camera, flaunting big boobs, gorgeous bubble butt and an intriguing bulge. She and muscular Dante Colle kiss passionately and unleash each other's cock. He deepthroats her, and as he rims her asshole, they stroke her boner. Dante fucks Domino's mouth and she sucks his big, bouncing balls. The stud and the dirty-talking trans stunner share 69. Her big butt pumps; she makes eye contact with the camera as she sucks and drools. With Domino on her back, Dante delivers a well-lubricated buttfuck. She gasps and masturbates with manicured fingers. As he drills the moaning girl hard, clear pre-cum streams from her girl-prick! 'Get on your hands and knees,' Dante orders, and a deep, doggie-style anal reaming makes her tight butthole gape. Domino jacks off intensely, tugging her scrotum, till dollops of jism spackle her lingerie, skin and the couch. 'I told you I cum a lot!' declares Domino. She strokes Dante's lube-slick dick to orgasm, his semen splashing her breasts (and not her careful eye makeup!).
Categories :
Hardcore
,
Big Tits
,
Anal
,
Deepthroat
,
Blowjob
,
Big Dick
,
Brunette
,
Trans
,
Tattoo & Piercing
,
Tits Cumshots
,
Bubble Butt
,
Cumshot
,
Stockings
,
Rimming
,
HD Porn
,
Gaping
,
Lingerie
,
Male Fucks Trans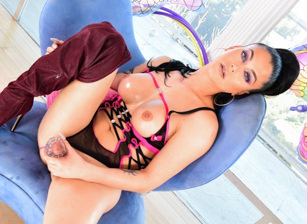 Date added:
2018-06-21
Rating:
Description :
Sporting suede knee boots and hoop earrings, exotic, busty transsexual goddess Domino Presley gives us a solo masturbation show. She squeezes her big, round knockers and then lubes up her turgid cock to stroke herself with long, manicured fingers. She wraps her engorged boner with a soft gel sleeve and pumps the shaft up and down. This glamorous T-girl masturbates faster and faster, edging toward orgasm, until ropes of cum spurt and dribble from Domino's glistening she-dick.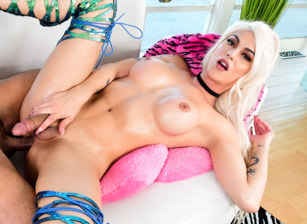 Date added:
2018-04-20
Rating:
Description :
Director Joey picks up gorgeous, platinum blonde T-girl Domino Presley and drives her home for a nasty date with male devotee Gabriel. She peels aside her lacy bra and unveils her round boobs. Gabriel takes Domino's long, stiffening she-cock in his mouth, and he lewdly tongues her bunghole. The TS bombshell slurps on her new boyfriend's dick, and he eagerly fucks her tight rectum. Domino jacks a load of sperm all over his face; Gabriel spunks across Domino's booty and obediently licks up his hot mess.
Categories :
Hardcore
,
Big Tits
,
Anal
,
Deepthroat
,
Facial
,
Blowjob
,
Big Dick
,
Blonde
,
Trans
,
Tattoo & Piercing
,
Cumshot
,
Rimming
,
HD Porn
,
Caucasian
,
Trans Fucks Male
,
Male Fucks Trans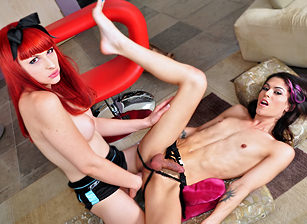 Date added:
2011-04-26
Rating:
Description :
Super-cute Bailey Jay is known as a 'good cop.' The red-haired, coquettish t-girl recruit takes coltish, tattooed t-girl perp Domino Presley into custody. Bailey undresses Domino, licks the nipples of her flat chest and has the skinny suspect suck her stiff pole. Bailey swallows slender Domino's big dick to the root while pumping her own shaft, which she shoves up Domino's tight ass until Domino jacks off onto her own belly. Bailey laps up the cum. The suspect gives the pretty cop a thorough rim job and an anal toy fucking before Bailey creams Domino's face.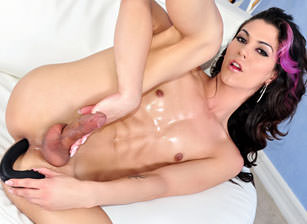 Date added:
2011-03-23
Rating: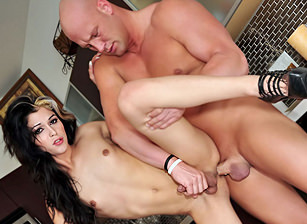 Date added:
2011-02-26
Rating: