Pornstar Info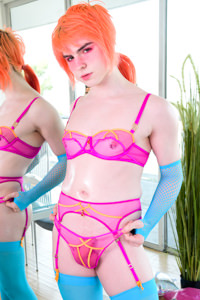 Videos with Ella Hollywood
Date added:
2021-02-21
Rating:
Description :
Tempting TS Ariel Demure looks flashy in a dog collar, silver jewelry and seamed fishnet stockings. Pale TS Ella Hollywood wears nipple piercings, heels and a bra-and-panties set decorated with cherries. She says, 'Holy fuck...' when a thick boner bounces from Ariel's bulging undies. Blushing Ella sucks the big penis head and kneels for a deepthroat blowjob; a face fuck includes dick slapping, ball lapping and spit-slathered stroking. Ariel returns the oral favor with thick, BJ lips. The ladies share French kissing as they suck nipples, masturbate and rub rods together. Ariel's deep rimming lubricates a powerful, doggie-style, anal slam-fuck that makes Ella groan. Ella takes a buttfuck ride, her own boner pointing straight up. When Ella gives ass-to-mouth head, Ariel calls her a 'pretty, little cocksucker.' Ella opens Ariel's butthole with tongue and lubed fingers. Ariel groans and gasps through a skin-slapping ass reaming, her cute butt grinding back on Ella's pumping boner. Ariel sucks she-dick ass-to-mouth. See lots more hard fucking and wet sucking in multiple positions. Ella jerks a sloppy load onto Ariel's tongue, face and hair; Ariel splashes Ella with a cum facial. The girls taste strands of sticky, spunky slobber in messy cum kisses.
Categories :
Hardcore
,
Anal
,
Deepthroat
,
Gonzo
,
Blowjob
,
Big Dick
,
Ass to mouth
,
Brunette
,
Trans
,
Open Mouth Facial
,
Tattoo & Piercing
,
Fishnets
,
Ass
,
Cumshot
,
Rimming
,
HD Porn
,
Handjob
,
Transgender
,
Caucasian
,
Small Tits
,
Lingerie
,
Trans Fucks Trans
Date added:
2021-02-06
Rating:
Description :
Cute, cisgender brunette Keira Croft looks like a sexy schoolgirl in braids, matching plaid tie and skirt, backpack, stockings and heels. She can't wait to play with TS Ella Hollywood, so Keira starts stripping before she gets in the door. Tall, pale Ella sports a leather dog collar, pierced nipples, fishnet stockings and bulging panties. The excited girls share a French kiss; Keira unleashes Ella's girl boner for a front-door face fuck. Inside, Keira strokes and deepthroats Ella, lapping her balls and rimming her butthole -- this is dedicated, slobber-soaked, full-service oral worship! The girls taste the metal butt plug that's been lodged in Keira's sphincter. Keira's cunt mounts Ella's erection, her cute butt pumping as Ella sucks her natural tits. Ella slides her she-cock from Keira's pussy to her butthole, and an anal ride makes Keira moan. Keira gives an ass-to-mouth blowjob, and the ladies share a rectally flavored smooch. See lots more skin-slapping sex, plus face sitting, fingering and sucking in multiple positions. Squealing Keira ejaculates girl squirt all over Ella! While sucking cock, Keira fists Ella, graphically twisting her little forearm in Ella's gaping, spit- and lube-greased rectum. A big dildo replaces Keira's fist, and lubricant belches from Ella's wrecked anal chasm. Standing Ella jacks ribbons of jism onto kneeling, scrotum-lapping Keira, who drools and kisses the spunk into Ella's mouth. In a 'postgame interview,' Keira describes her first fisting experience, saying that when Ella's 'welcoming' butthole 'sucked me right in,' Ella felt like her puppet!
Categories :
Hardcore
,
Natural tits
,
Anal
,
Deepthroat
,
Facial
,
Squirting
,
Cum Swapping
,
Gonzo
,
Toys
,
Blowjob
,
College
,
Fisting
,
Trans
,
Open Mouth Facial
,
Tattoo & Piercing
,
Fishnets
,
Ass
,
Cunilingus
,
Fingering
,
Rimming
,
HD Porn
,
FaceSitting
,
Small Tits
,
Trans Fucks Female
,
Black Hair
Date added:
2019-12-17
Rating:
Description :
Flashy cisgender beauty Athena Rayne dances and strips, showing off perky breasts and a petite frame. TS sweetheart Ella Hollywood softly caresses Athena's face, and they share passionate kisses. When precious Ella presents the stiff she-prick protruding from her tight panties, Athena gives a wet blowjob. Ella smiles adorably as Athena rides her cock; Ella pounds the young girl's cunt through a gender-bent tryst. Athena stuffs a large dildo up Ella's ass, saying 'good girl' as the cute TS sucks the toy ass-to-mouth. The heated affair features rimming and climaxes as Athena strokes Ella's girl penis to orgasm.
Categories :
Hardcore
,
Petite
,
Natural tits
,
Anal
,
Deepthroat
,
Gonzo
,
Toys
,
Blowjob
,
Pussy to mouth
,
Blonde
,
Trans
,
Bubble Butt
,
Ass
,
Cumshot
,
Fingering
,
Rimming
,
HD Porn
,
Caucasian
,
Small Tits
,
Trans Fucks Female